GDG Logistics Awarded with a GDP Certificate
On 27 September 2021 the Bureau Veritas Cetrification certified that the Management System of General Development Group (GDG Logistics) has been audited and found to be in accordance with the requirements of the management system standard for the EU Guidelines on Good Distribution Practice (GDP) on an internation logistic services scope.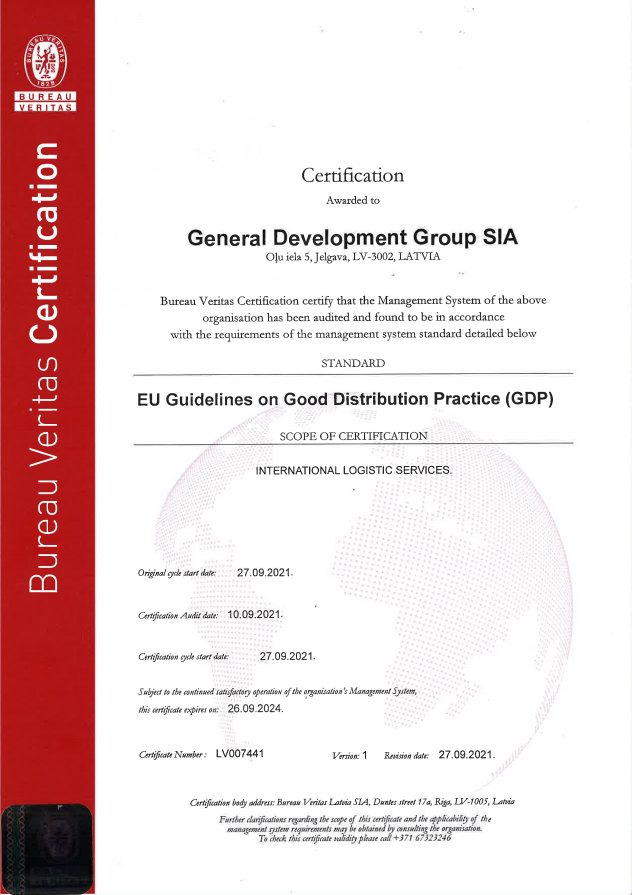 Good distribution practice (GDP) scertificate standart ensure that the quality and integrity of medicines is maintained throughout the supply chain.
Compliance with GDP ensures that: -medicines in the supply chain are authorised in accordance with European Union (EU) legislation; -medicines are stored in the right conditions at all times, including during transportation; -contamination by or of other products is avoided; -an adequate turnover of stored medicines takes place; -the right products reach the right addressee within a satisfactory time period. -The distributor should also put in place a tracing system to enable finding faulty products and an effective recall procedure.
GDP also applies to the sourcing, storage and transportation of active pharmaceutical ingredients and other ingredients used in the production of the medicines.